One Love Animal Rescue has the most wonderful foster families who open their hearts and homes to care, love and train our cats and dogs until they find their forever homes.  Meet the wonderful people who are instrumental in Saving Lives and Finding Loving Homes!
Amanda Wrona - "I have fostered over 80 dogs with 4 foster failures (i.e. fosters that became my own family dogs)"
I have been a dog lover all of my life.  My very first dog as an adult was a Lab/Shepard mix Jude who inspired my launch into animal rescue.  I adopted him at 8 weeks old from the local animal control at the time and fell madly in love with him.  He contracted the very deadly Parvo disease (probably at the animal shelter) and sitting near his little sick bed at the vets' office I made a promise to God, the universe and whoever else was listening that if he lived, I would help other dogs so that they would never have to die alone in a shelter, never knowing love.  Against the odds he pulled through and since 1992, I have fostered over 80 dogs with 4 foster failures (i.e. fosters that became my own family dogs).  Along the way Jude did a wonderful job helping to make foster dogs feel welcomed into our pack up until his death in 1999 from cancer. I still foster as a tribute to the joy he gave me, starting day one at his adoption.
I believe that dogs that have been abandoned need rehabilitation and the key to my foster's success involves bringing them into our home (with my other dogs, cats and husband) where we all work together as a team to rehabilitate them emotionally and physically. The rehab includes stability, safety, health care and playing. But obedience training is the silver bullet to transformation.  I take all of my foster dogs training with dedication and patience and it shows in the way they blossom in the time that they are with me.
Fostering makes me feel like I'm helping not only dogs, but people.  I enjoy matching families and individuals with the dog that is right for them and their needs.  I have received emails over the years from people who have adopted my fosters and I hear about transformations in their lives!   I'm so grateful that so many others are dedicated to making sure that all dogs get the wonderful life that they deserve.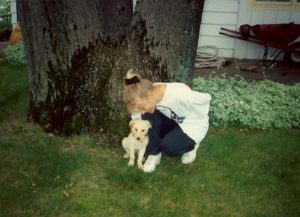 Catherine Green - I originally got involved with fostering when I moved over to the US from England and could not work for a while. What better way to use my time than help some animals in need? Being allergic to cats, my focus was always going to be on fostering dogs. I had never had my own dogs (not for lack of trying to convince my parents) but had always loved them since childhood; I volunteered at a local vet clinic and provided dog walking services to my neighbours. The support which One Love provides to it's foster homes is fantastic and they are always just a text or call away if you have any concerns or need any supplies. Fostering has been a wonderful experience for us and we hope for the dogs who spend time in our home! Here is what my dog Bramble has to say about fostering: 
"My foster mum saved me after my Mum died when I was just 8 days old. She took 3 of us in and bottle fed us every 3 hours around the clock so we could grow up healthy and find our forever families. That must have been hard work for her but she says seeing us all grown up is very rewarding. I was lucky as she decided to adopt me permanently! It was really sad when my brothers left for their forever homes but the great thing is that we keep fostering more dogs and so I always have new friends to play with. I love my foster siblings; we have had a few adults and some puppies younger than me. I'm always a bit sad when they go to their new homes but I am glad I could help them learn how to play with other dogs while they were living with us! The foster dogs who are old enough go to the One Love dog training once a week to help them work on their manners and basic commands. We all get crated at night and during the day when we're home alone. Sometimes the foster dogs need to get used to the idea but we keep at it until they understand that their crate is their safe place. Fostering saved my life and I love that we are still saving other lives too!"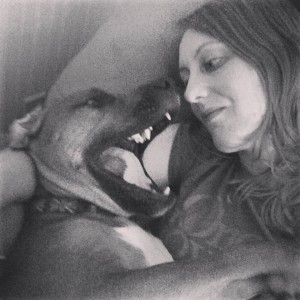 Gabrielle D'Alessandro - My name is Gabrielle. Even though I am only a junior in high school, with the support of my parents I started fostering cats in the sixth grade. I had always wanted a cat however my mom is allergic to them. So in the sixth grade my mom allowed me to start fostering cats and kittens on the terms I kept them in my bedroom, I took care of them, and I payed my portion for supplies. Since then I have had the amazing chance to care for and love nearly 40 different cats as they find their forever homes. People always ask me if I am sad when I give them up, and of course I am, but I am also so happy to have been able to help save a life. From raising abandoned kittens to caring for sick older cats, I absolutely love doing it all! Learning each and every cats personality is so much fun, as no two cats are the same. The absolute best part, however, is getting to see them get adopted by someone that will love and spoil them more than I ever could.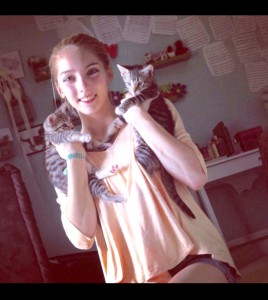 Cecelia and Ashleah Jeffrey - Cecelia aka Cece works Full-time and has had animals in her life since she was very young. Her Love of animals stems from the loss of pets over the years and researching Rescue Organizations we fell in love with One Love and the people and wanted to be a part of the Resolution to the problems caused in the Pets World.
Ashleah is an upcoming College sophomore.  She Loves animals of all sizes and species.  She wanted to be able to Foster so she would quickly be involved in the processes.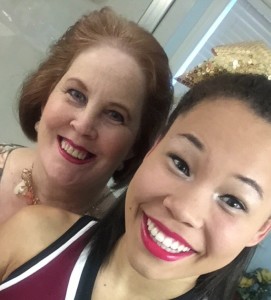 Laura Peterson - I have had dogs (and a couple cats) my entire life.  I have witnessed amazing people work tirelessly to save as many animals as they can and who wouldn't want to be a part of something so wonderful! I have 3 dogs of my own at home plus our foster. One of ours was a foster fail….We are a very busy family. I work full-time during the week plus my husband and I own a restaurant/bar My kids are grown, but they're nearby so they also have the privilege of helping out with the pets. They love them as much as my husband and I do. We make fostering a family affair. Due to already having 3 grown dogs, I felt it would be easiest to foster young pups. Although they are a little more work, my dogs are more accepting of a pup.  I look forward to helping many of these dogs in need, wishing I could save them all…..
The Yamada Family - The Yamadas are animal lovers.  We brought our fist cat, Miyao, all the way from Guam when we moved to Savannah in 2001.  When we decided to stay in Savannah in 2004, our family started to grow.  We rescued our first dog, Choco, in 2004 then decided he needed a companion in 2005 and adopted Lucy.  We thought it would be fun to foster a dog and were successful with our first foster dog.  He quickly found a home.  However, we became foster flunkies the second go-around and ended up keeping Molly.  Our four-legged family was now up to 3 dogs and 3 cats (2 more cats joined the family in the mean-time).  We lost Choco in 2014.  The house just wasn't the same.  We found One Love and decided to give fostering another try.  We are enjoying our foster dog, Hilo, and hope he will find a forever home soon.  We look forward to fostering more dogs in the future as long as we don't flunk out again.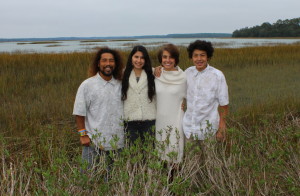 Jessica and Justin Price - My name is Jessica Price and my lovely husband is Justin. We got into fostering when I was volunteering at Animal Control and fell in love with a dog there, Cookie, who was deemed unadoptable. She went through heart worm treatment at our house and found a lovely forever family and I was hooked on fostering. Unfortunately our family dog Lola (80lb black lab mix) was not fond of another dog living in her house, so our compromise was cats. Lola loves cats! We like to foster special need kitties or giving pregnant cats a safe place to have their litters. We have had a sweet cat Price who was hit by a car recover at our house and find his awesome forever family. We have had a couple mommas give birth at our house. We like to specialize in multiples, cats and kittens who may need a little tlc to become forever pets. They get to live in a home with our dog and our two cats Lemon and Jazzy (One Love foster fail) where they get used to a large dog and living with other cats. We have had over thirty animals come through our house and get adopted into loving forever families and I love fostering so we anticipate being a foster family for a long time and helping to save many more.
Katy and Neal Sakash -My name is Katy, my husband Neal and I have been volunteering and fostering for One Love for 3 years. One Love helped us rescue our dog, Hunter, from animal control on the day he was supposed to die. He really changed our lives. We adore him, he makes us laugh so much, but for awhile we used to cry a lot too because we couldn't believe how lucky we were to meet him just in time. One Love gave us the gift of getting to meet and love our best friend and we decided we wanted to be a part of such a great team! We live on Hilton Head Island, we have fostered dogs similar to Hunter (hyper adolescent, pit bull type dogs, who need people who are patient with their energy levels and are willing to wear them out mentally and physically). More recently we have been focusing our energy on rescuing very young kittens. I have always loved kittens and fostering kittens under 6 weeks old allows me to always be surrounded by kittens without making Neal want to move out, or being called a crazy cat lady (haha). But most importantly I know I am giving these babies a chance they wouldn't otherwise have, I love knowing that each little life gets the best I have to give them, and that they all get the opportunity to feel loved.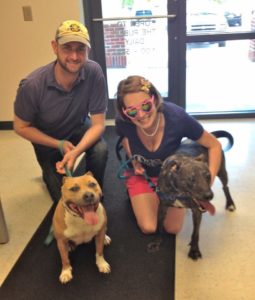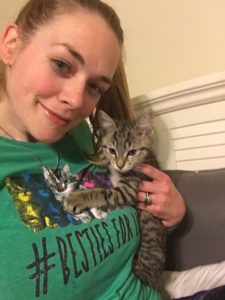 Jeremy Zar - I just started fostering a few months ago. I love dogs but I'm not at a point in life where I can commit long-term to one of my own. So, for the time being, I enjoy the companionship that fostering brings! I only have a one bedroom apartment with no other pets so I try to give my foster as much attention as possible when I'm not at work. We usually evening or morning walks at Forsyth Park several times every week. I have much more experience loving dogs than training them and my schedule can get hectic so I prefer fostering dogs that are already house and crate trained!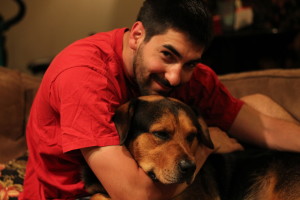 The Sedory Family - We are the Sedory family from Richmond hill. We are a house full of love, married for 10 years with our wonderful son 8, our perfect dog Louie, who is 13 and our 2 cats Joey and Axel. We foster because having puppies in and out of our house is good for our senior dog and because the chaos is fun! Puppies are a handful!  But, they steal your hearts too!  I have lived with dogs my entire life, learning to train from my dad who bred springer spaniels when I was young. Training working breeds as a kid gave me a leg up in training as an adult. I crate train the pups so they're ready for their forever home. Lots of snuggles, socialization and a healthy fear of cats!
Katie Charron and James Levens- We have been working with One Love since the spring of 2015.  Our energetic beagle Jacket and our foster dogs love running around our fenced in backyard.  We live near six miles of hiking trails, so long walks are a part of everyday.  Usually we routinely take walks in the morning and evening.  We both love hound dogs but are dog people in general.  We crate train our foster dogs and try to make it to the training classes to work on sit, lay down and the basic commands.   We have really enjoyed being a part of One Love.   We like knowing that our fosters don't have to stay in a shelter and we think the dogs have it pretty good at our house.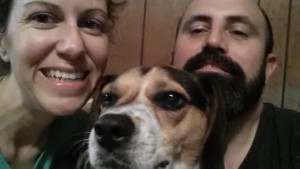 Laura and Ryan Morris - Ryan & I have been together for almost 8 years and we have fostered pets for almost the whole time that we have been together; 7 years running. We feel very passionate about giving back to the community and are dedicated to helping the stray, abandoned and abused pets in our area. We have seen first hand just how terrible the over population of pets is here and we are doing our small part to try and help make a change! I, Laura, am originally from New Jersey and I always remember the dogs and cats that we had while I was growing up. They were an important part of our family and they were inside dogs and cats who licked our faces, slept on our beds and who went just about anywhere that we did!  My parents were huge animal lovers and it has surely rubbed off on me and now us as a couple. When we first got together, Ryan was not as involved as I was and would often get frustrated with me bringing home stray after stray but eventually he too began to develop a very strong compassion for rescuing and NOW he even picks them up and brings them home too ha-ha. We currently have 5 dogs and two cats of our own and we usually choose to foster puppies and young adult dogs. We can not foster cats because our two personal cats are not a fan of other cats. Puppies and young dogs do well at our house as they are able to learn to properly socialize with other dogs. We have a very large fenced in back yard which makes playtime fun and gives them an opportunity to get the exercise that they need. Ryan owns his own business so often he is able to take the puppies to work with him during the day to work on potty training. When we are not home they are crate trained and we do work on basic commands with them as well. Although at times, our house can get a little crazy, with as many as up to three fosters at once in addition to our 5 dogs, seeing the puppies run and play together, makes it all worth while. We are able to give our foster dogs the second chance at life that they so deserve and that is what rescuing is all about! "Saving one dog will not change the world, but surely for that one dog, the world will change forever."
Rebecca Wells - My love for animals stems from early childhood when I would spend the weekends with my aunt who ran a farm. I got my first dog when I was 4 years old and I can't imagine my life without a fur baby in my home. Right now I have three rescue pups of my own: Daisy (a yellow beagle), Sadie (a shepherd/plot hound mix), and Samuel (a shepherd/rottweiler mix) as well as 6 zebra finches. I began fostering with One Love in March 2015, and have housed puppies and adult dogs with special emotional needs. Fostering is such a rewarding experience to me because it not only saves the life of an animal, it also brings joy to the forever families who adopt them, which in turn brings joy to me! People often ask me how I can give up my fosters (especially the babies) after I've invested so much time, care, and love in them. My answer is that it's a calling on my life and God equips us to do what it is that He's called us to do. Yes, I do get attached to my fosters because I integrate them into "my pack" and I treat them as one of my own. And, I do get a little teary-eyed when they leave but seeing the end result of a healthy pup with the perfect forever family makes it all worth it.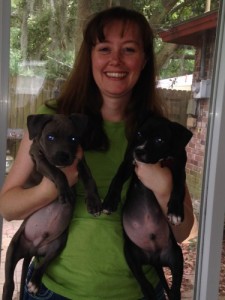 Elizabeth Acey - I am a stay at home mother with a toddler. Fostering is a way I can teach my daughter responsibility and how to enjoy animals and the love they bring into a home. My daughter loves to help walk the dogs, feed them and play with them. I feel this is a win-win situation because my daughter is able to learn and grow into a better child/adult as well as the dogs that is able to experience love and kindness. It also helps the dogs adapt to many different tones in the house (such as my daughter banging pots and pans together) as well as my daughter snuggling up with them on the couch. I have always had a dog or two while growing up and it was a great experience for me. I want my daughter to experience the same thing. I enjoy talking to families at adoption events because I can express how much positive change I have seen from the dog from the day the rescue saved it's life. When you receive word that one of your foster dogs have interest, I get so excited for them knowing that there is a family ready to accept them as another member of their family! We have wonderful fosters that do tremendous work as well as One Love Animal Rescue on helping so many animals find a forever home!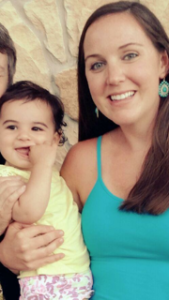 Eleza and Jake Sebesta - My name is Eleza and my husband Jake and I have been fostering for One Love Animal Rescue since January 2015. We are both from central Minnesota, but I grew up on a farm and was always surrounded by animals. My husband quickly shared my passion for animals when we met and agreed to participate in the volunteer work for the rescue. The best is when we can rescue a neglected dog from animal control that did not stand a chance and teach them how to be a household pet for their future families. The best experiences have come from watching a dog grow and witnessing them enjoy being a dog again. Our fosters live with us in a household with 3 dogs (a big one, a little one, and a "foster fail") and a cat that thinks he owns them all. We love fostering the timid dogs that benefit from confidence building and learning from our crew of "fur-babies". We have fostered everything from puppies to adults, mangy dogs, timid dogs, and dogs that are going through heartworm treatment. We don't have a specialty! We have loved them all! The best part is watching them go to the amazing adopters that can provide more time and attention for them than we can in our house full of dogs, and they finally get to be the family members they were always meant to be. It makes it all worth it when we gain the room to save even more!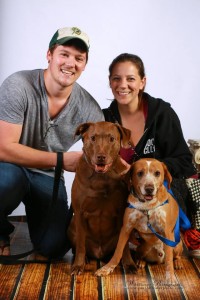 Marie Rodriguez - I am Marie Rodriguez. I've been in the Veterinarian business all my adult life so I guess you can say I've been in pet rescue all my adult life. I am a cat person so I like to foster cats and kittens. I am the President of Islands Feral Cat Project so I am always coming across cats or kittens with no homes and it makes me proud to be part of a rescue that dedicates itself to saving the lives of those that need a home. I open my home to One Love because I know that the cat or kitten in my care will get the best opportunity that it can. That it will be cared by medically, physically and mentally. I have numerous cats of my own so I always try to incorporate the cat or kitten I am fostering so they can experience how it is to be part of a loving family. The most positive experience I've ever had is getting an extremely afraid kitten, hissing and hiding and within a week having it purring, feeling confident, loved and content. It's a miracle just to see what one week of love can do!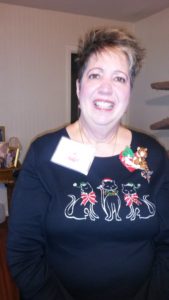 Tonya, Nick and Lucy Rintye - owners of the Hipster Hound Dog Daycare and Boarding facility, have had rescues their entire lives, including the four they have now in their home.  We are so thankful everyday that a rescue organization rescued our dogs so they could find their furever home with us.  This is one of the many reasons we vowed when we had our own doggy business we would pay it forward by offering free fostering, hosting pet adoption events and spreading the word to adopt.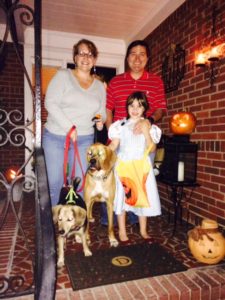 Jenna Billian - I moved to Savannah for school in March of this year and found One Love in June. I have been fostering with them since July and I feel so lucky to be part of the One Love family. I have had dogs ever since I was little - when I was five (and until she passed away 8 years later) my best friend was my cocker spaniel, Samantha. This is my first time fostering and what an amazing experience it is! The pup I am currently fostering is reactive to other dogs, so for right now it is just me and her (although if I could I would have all the foster dogs at home with us!) Hopefully some day we will get to the point where she is ok letting other dogs into our little family. I am passionate about saving animals and so happy that I found One Love!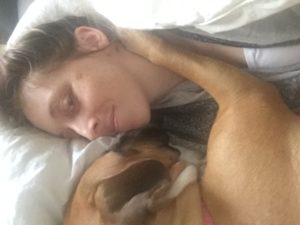 Corinne Eschenroeder and Patrick O'Bryan - Corinne and Patrick met in South Korea where Corinne was teaching English and Patrick was serving in the Army. They moved to Savannah with Corinne's cat Reggie and decided to open their home to foster pets. Corinne and Patrick love the show LOST, taking long walks with dogs and BBQing in their friend's backyards. They are happy to be a a part of the One Love Family!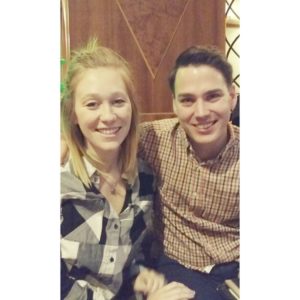 Sandy Owens - I've always loved animals; I grew up with dogs, cats, and horses, and have been working with animals every chance I've gotten. I started volunteering with the local humane society in my hometown in 2006, and spent all of my middle and high school career hosting fundraisers and drives for them, and cleaning and caring for the animals. When I came to college here in Savannah I found that I missed not only my animals at home, but I also missed helping out at the humane society. I knew I couldn't dedicate enough time away from school and work to volunteer at a shelter here. I also knew I couldn't adopt a dog at this time in my life, given that I don't have the stability in terms of time or money to care for one properly. That's when I decided to foster- why not use what time I do have to give what I can to an animal in need? Fostering has been one of the best experiences of my life- I know that I am saving a life, I get to enjoy endless puppy cuddles, and I don't have to make a life long commitment yet. I would recommend fostering to any college student that wants to make a difference in an animals life!
Cornelia Stumpf - Having 4 dogs already presents a challenge to foster another one. But being a volunteer for OLAR  and seeing all the good work that is constantly done, makes one accept challenges and make them work.
So if there is a need and the dog fits in my " bunch of crazy pups", I rise to the occasion and add a temporary family member to spread   love, shelter and protection until he or she finds their own furrever home.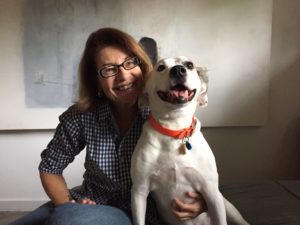 Anna Walker - Hi, my name is Anna and I just recently started volunteering and fostering for one love. I have been an animal lover and pet owner my entire life!
In July 2013, I adopted a pure bred yorkie from a breeder. She was planned to be sold for $500 but was given to me for free and said she was "different". Turns out she suffers from epilepsy and needs medication daily. This began my bleeding heart for the "unwanted" animals in the world.
Back in September 2016 I rescued an orange tabby in my neighborhood who has abandoned with a bag of kitten food. He had ear mites, fleas and eye infections but with lots of medicine and love he is now a beautiful healthy cat and this sparked a passion inside of me to start getting serious about saving animals.
In March 2016, I went to petsmart and adopted a dog named Bree. Her story touched me, as she was found on the side of the road pregnant. Her puppies were all adopted out but nobody seemed to want her, until I came along!
Then about 2 months ago a friend of mine asked me to help her. She currently had 6 dogs and 8 cats and asked if I could take one off her hands.  She too has a soft heart and rescues many "unwanted" cats and dogs. She had one cat who she only intended to foster but despite her many attempts to adopt out, nobody wanted a disabled cat, except for me and surprisingly enough, my husband. This cat only has 3 working legs but something about her melted my husband and she has now become "his" cat.
Then about a month ago another kitten was found in my neighborhood. Despite my husband's plea for no more pets, having now 4 pets, I still rescued the kitten as I felt it was the right thing to do. That is when I did my research and found One Love and realized I can make a positive difference in animal's lives! Now only a few weeks later I have a total on 4 cats in my home and 3 dogs! 2 of the cats and one dog are fosters and the others are ours. I am also a stay at home mom of 2 boys (2yr old & 1yr old).
I couldn't be happier with choosing to get involved with One Love. Fostering these fur babies while volunteering at petsmart to help with the cat room is definitely proving to be everything I have dreamed of and so much more! I look forward to many years ahead helping One Love in anyway that I can! Being a part of this does more for me than I can ever explain and my gratitude for the opportunity to save animals is far greater than words could ever describe!